Tech Trailers is the only distributor stocking Waltco Liftgates and parts servicing the complete Southwestern Ontario region from our facility in London, Ontario. We specialize in part sales, repairs, and installations. View our complete list of stocked inventory parts here, Waltco parts list.
We have a growing inventory and can also order any parts you may need if we don't currently have them in stock. If you have a list of part numbers, call us and we can help you fulfill your order as soon as possible. Unsure of what you need? We'd be happy to assist you in getting what's best for your vehicle.
The image to the right shows major cities for which we provide Liftgate solutions. We also service all areas in between.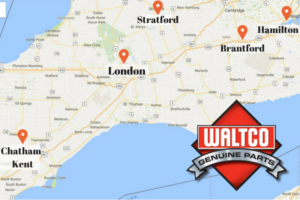 Our Liftgate Services Include:
We do warranty work and installs for Maxon, Leyman, Anteo, DHollandia, Anthony, Waltco and SAF Holland Liftgates
Repair, Service and Overhauls
Ask about our Maintenance Program available on any liftgate, regardless of where it was purchased
Preventative Maintenance Programs Available
Visit us at 501 Exeter Road, London to get a free quote on any liftgate repairs
To see the complete Parts Price list for Waltco parts we can order and deliver follow the link below. For a parts navigator, click here. We offer discounted prices on the listed Waltco parts. Shipping and Handling Fees apply.
complete-waltco-parts-list-for-ordering
Having a functioning Liftgate/Tailgate is essential for loading and unloading your truck. We perform structural, mechanical and cosmetic repairs on liftgates. We'll provide you with a free quote, as we deal directly with Waltco. We will also supply the required parts at a great price. To the right, see a liftgate we recently repaired.